Exhibit 3.7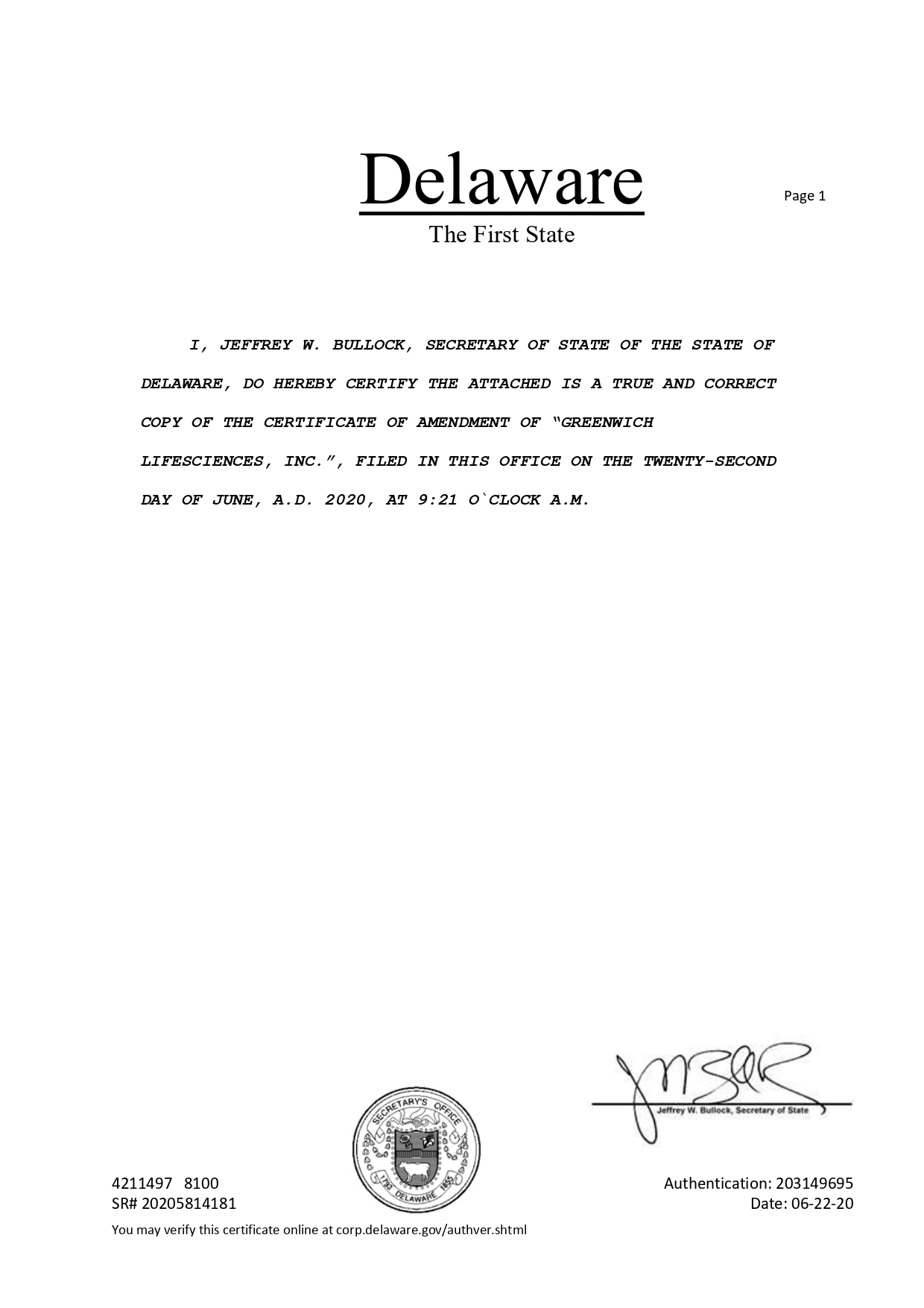 Certificate of Amendment
of
Amended and Restated Certificate of Incorporation
of
Greenwich LifeSciences, Inc.
Under Section 242 of the Delaware General Corporation Law
Greenwich LifeSciences, Inc., a corporation organized and existing under the laws of the State of Delaware (the "Corporation") hereby certifies as follows:
FIRST: The Amended and Restated Certificate of Incorporation of the Corporation as filed on April 19, 2011 is hereby amended by adding the following to the end of Article IV:
ARTICLE IV
"Effective as of4:00 p.m., local time on June 22 2020 (the "Amendment Effective Time"), every 2.67 shares of the Company's Common Stock and Preferred Stock then issued and outstanding, shall, automatically and without any action on the part of the respective holders thereof, be combined, converted and changed into one (1) share of Common Stock and one (1) share of Preferred Stock, respectively, of the Company (the "Reverse Stock Split"). No fractional shares shall be issued upon the Reverse Stock Split. If the Reverse Stock Split would result in the issuance of a fraction of a share of Common Stock or Preferred Stock, as the case may be, the Corporation shall, in lieu of issuing any such fractional share, round up such share to the nearest whole share."
SECOND: The foregoing amendment has been duly adopted in accordance with the provisions of Section 242 of the General Corporation law of the State of Delaware by the vote of a majority of each class of outstanding stock of the Corporation entitled to vote thereon.
IN WITNESS WHEREOF, I have signed this Certificate this 22nd day of June, 2020
| | |
| --- | --- |
| | /s/ Snehal Patel |
| | Snehal Patel, Chief Executive Officer |
| | |
| --- | --- |
| State of Delaware | |
| Secretary of State | |
| Division of Corporations | |
| Delivered 09:21 AM 06/22/2020 | |
| FILED 09:21 AM 06/22/2020 | |
| SR 20205814181 - File Number 4211497 | |
-1-